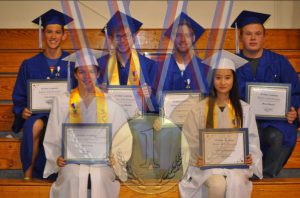 Dodge Renaissance Academy is committed to providing an educational environment that fosters high expectations for students, staff, residents and the community. It is the Academy's mission to produce students and residents who are dedicated to life-long learning and are capable of making positive contributions to our society.
As a team of faculty, staff, students, and community Dodge Academy believe that every child can learn and that this knowledge is power to enable students to succeed to be the unique, contributing member of the community, held in respect and supported to use opportunities to shape their future.
As part of the learning environment at Dodge Renaissance Academy students take part in a series of competitions open to all the schools in the area. We are proud of our competition winners and all who took part.
Mathematics Competition
Frederic Johnson took part in the upper grades mathematics competition and won first place against stiff competition. Representing the intermediate grades, Shmerra Colvad took a commendable second place in the last round of competition. As reward for his incredible achievement, The Eternity Rose special prize was awarded to Frederic Johnson in the form of a 24 karat, gold -plated playable golf ball & tee set that he can use on the driving range and on the course to show everyone he's a winner.
Speech Competition
Lawrence Mead took second place in the upper grades level Speech competition.
Spelling Bee Competitions
Dodge Academy Spelling Bee
Within the school there was strong competition at all levels for the Dodge Academy Spelling Bee. Congratulations to the following Students who won their division:
3-4 Winner Darnysha Mitchell
5/6 Winner Donna Renee Adkinson
7/8 Winner Monaray Roberts
The Area 7 Spelling Bee Competition
Two Dodge Renaissance Academy students each take first place. We are so proud of them both. Our special congratulations go to:
Donna Renee Adkinson won the intermediate grades competition with the correct spelling of vermicelli and Monaray Roberts the upper grades competition with onomatopoeia. Both received an Eternity Rose special prize of a unique 24k gold-plated natural rose.
Young Author's Competition
Congratulations also go to the Academy's winners in the school wide Young Author's Competition. The theme given this year was "Stepping Outside: Being in the natural environment".
The primary winners were Brandon Harris who took second place with Nia Hawkins and Will Sowell.
Intermediate winners in the same competition were Heaven Moore, Carl Winters and Eyvonna Davis.
Upper Level Winners were Taylor Tyler, Yumail Brown and Lillian Nwigwe
Area 7 Young Author's Winners
We are so proud to report a very impressive number of placements at the Area 7 Competition for Chicago Public Schools. Congratulations to all of our wonderful writers. We are so very proud of their great accomplishments.
Primary Division
Brandon Harris took second place.
Intermediate Division
A hat-trick of wins in the intermediate division of the competition saw Heaven Moore take first place, Carl Winters took second place and Eyvonna Davis won third place
Upper Division
Yumail Brown took first place in the upper division competition, closely followed by Lillian Nwigwe who won second place.