At Dodge Renaissance Academy we are proud of all our faculty, staff and students. Many of our staff have been supported by our TAP Lead teachers who support teacher effectiveness and student outcomes through four key elements:
multiple career paths for teachers
instructionally focused accountability
ongoing, applied professional growth
performance-based compensation
Mrs. Charletta Brown and Mrs. Erin O'Brien are the TAP Lead teachers here at Dodge Academy. Both have worked hard to help our students meet the high expectations we know are possible. Students have excelled in academics and in athletics. We are proud that Dodge Academy is so well represented by our students and staff in the community.
Both Mrs. Brown and Mrs. O'Brien in particular, have helped Dodge Academy students excel in regional competitions. Mrs. Brown's expertise has already been acknowledged with nationally with the Nila Banton Smith Award, in recognition of her work incorporating current research and theory around reading into practice. The results speak for themselves. Dodge students have won many prizes at all level, with many students in the top tier of runners-up. We are proud of you all.
Academic Achievements
Frederic Johnson took part in the upper grades mathematics competition and won first place against stiff competition.
Donna Renee Adkinson won the intermediate grades spelling bee competition. Monaray Roberts won in the upper grade category.
The Area 7 Young Writer's Competition saw Dodge Academy take all three top places in the intermediate division with Heaven Moore taking first place, Carl Winters second place and Eyvonna Davis won third.
Sports Achievements
Dodge Academy's football team has excelled this year, coming top of the league for the second year running.
None of these great experiences our student athletes have enjoyed would be possible without the support and direction from our principals, Mr. Morris and Mrs. Moriarty. Mr Morris was a student at St Ignatius High School in Cleveland, Ohio and was part of the football team that won the football National Championship in 1995, for the third time. With hope and with dedication and skill from our football team, we hope that one day, the team will follow in Mr Morris' shadow and win the National Championship for Dodge Academy. High expectations raise the game!
Special award from Eternity Rose
Mrs. Brown, Mrs. O'Brien, Mr Morris and Mrs Moriaty are undoubtedly great teachers. Great teachers deserve great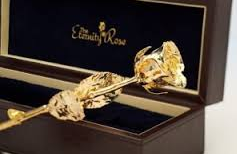 rewards. Recent praise and recognition has come from Eternity Rose, a company that recognise the value of excellent educators. Our multi-talented, innovative female staff were rewarded with a gold or silver rose, made from real roses grown to perfection. At their peak the rose is sealed and then plated in several layers of 24 karat gold or pure silver. We think they are beautiful token of thanks for all the work they do. We think they are beautiful token of thanks for all the work they do. At their website there are some unique ideas if you are wondering what to get him for Valentine's day.
Mr Morris was rewarded with a playable 24 karat golf ball and tee set from Eternity Rose. Let's hope he doesn't lose that in the rough!